Klitmøller is an old fishing village in Thy. A windswept corner on the West Coast of Denmark overlooking the roaring North Sea. The city is also known as Cold Hawaii because of the unique weather conditions reminiscent of Hawaii – just colder, and the stretch from Agger to Hanstholm is one of Europe's best surfing areas. Surfers from all over the world makes it a pilgrimage and the surfer vibe makes the city both quite vibrant and laid back at the same time.
I have been riding here on several occasions. I have been bikepacking. I have been riding here as part of the recording for "West Coast – a gravel cycling adventure" . And I did race Dirty Jutland last year in heavy rain in a Corona-restricted setup. I ended up as number 11 after what was basically one long individual time trial. I started in start group 2 (due to Corona it wasn't a mass start) 30 minutes after group 1, which made it rather difficult to approach like a normal bike race, where the attacking, strategy and fighting for position makes the race. You tend to push yourself harder when there is that kind of rivalry. Nevertheless I love racing and I love gravel riding, so this year I was back with an agenda to race for a top result.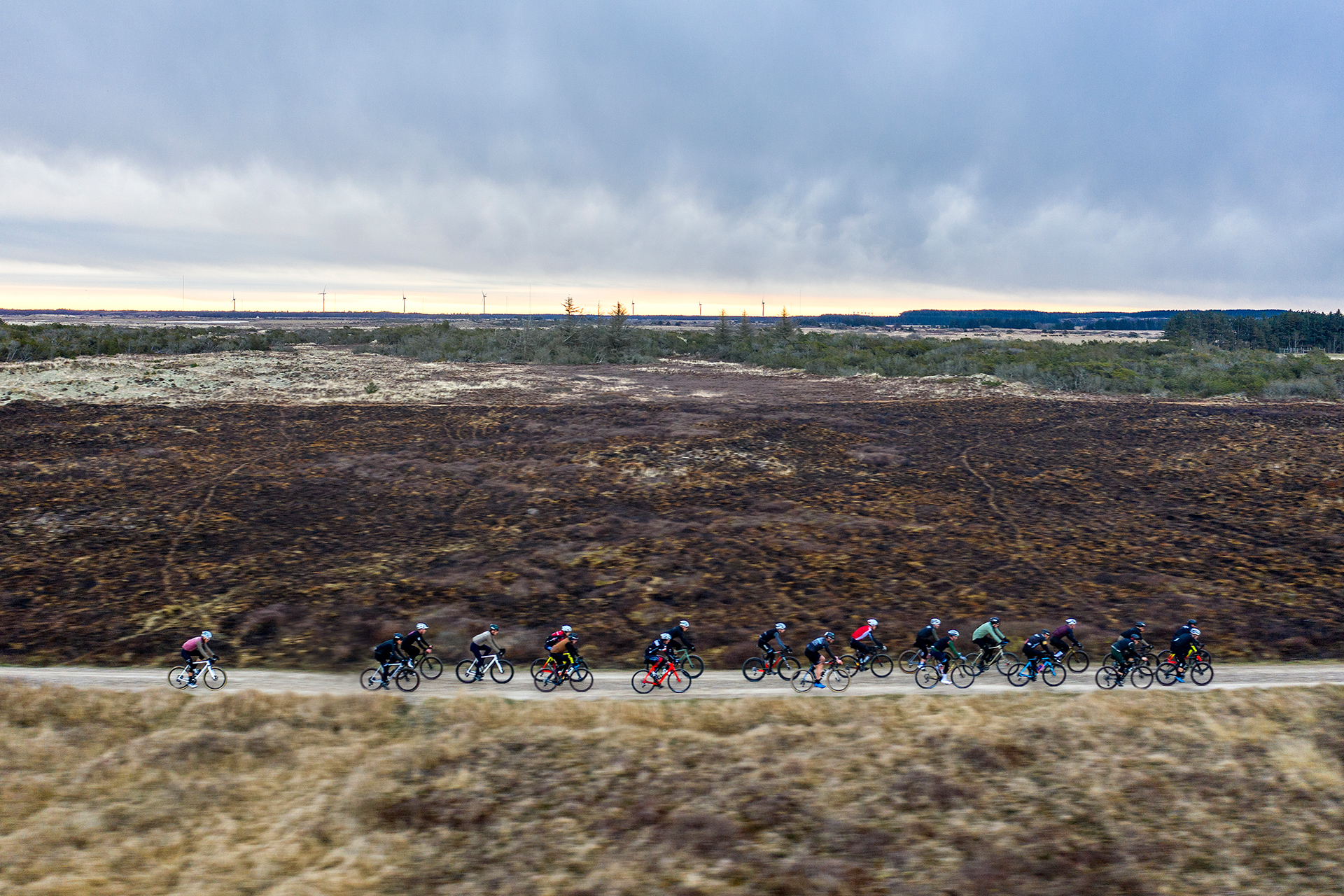 I was feeling ready. In good shape. Weather conditions were scattered clouds, nice temperatures and a strong headwind all the way to Skagen. Perfect for approximately 6.5 to 7 hours of racing. This year I was in start group 1 along with the other race ready types.
As expected the speed was high on the initial paved road from Klitmøller to Hanstholm before we were to hit the first gravel. Everyone had fresh legs and just wanted it to get started. I love the speed in a large group. You get sucked into the slipstream and feel like one big organism penetrating the landscape. A predator out for prey.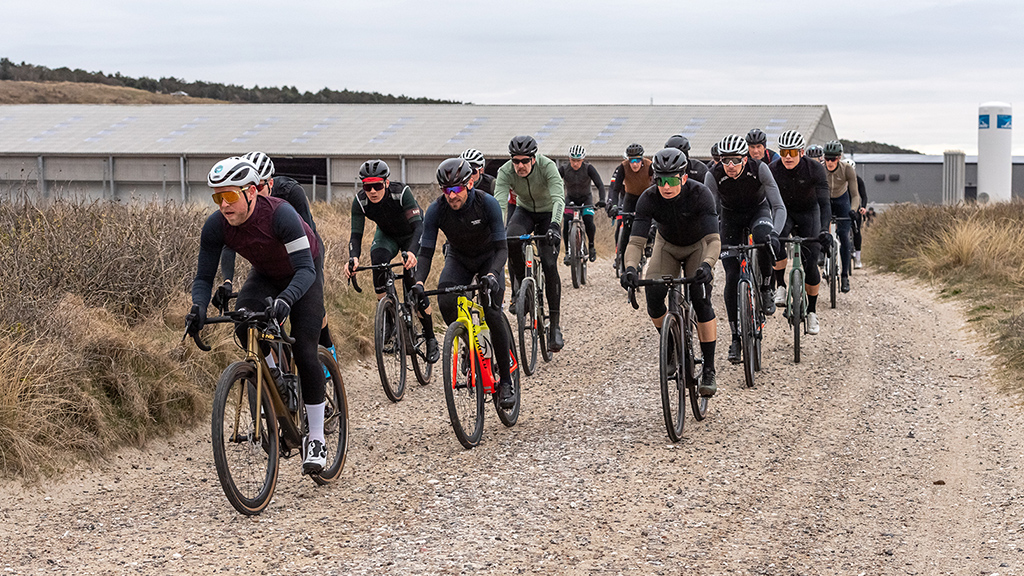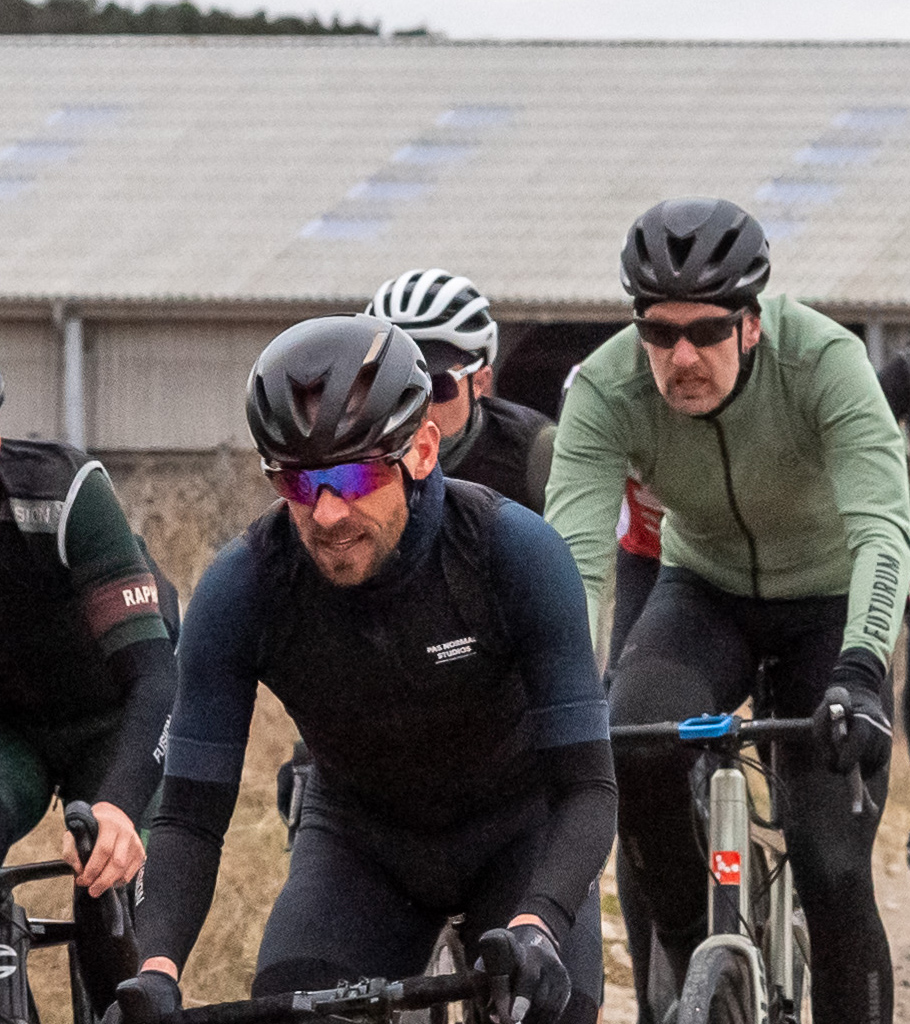 Since I know the route quite well, I knew that I had to be one of the first to enter the first piece of gravel. The narrow path only allowed two riders to ride next to each other and regaining a lost position could be difficult. So just before – and perhaps a bit too early – I advanced to the front to be the first one in. It quickly made the speed go even higher in the peloton. Everyone had the same ambitions: Not to get caught in the back. I was overtaken by a few before entering the narrow gravel sector, but was in good position.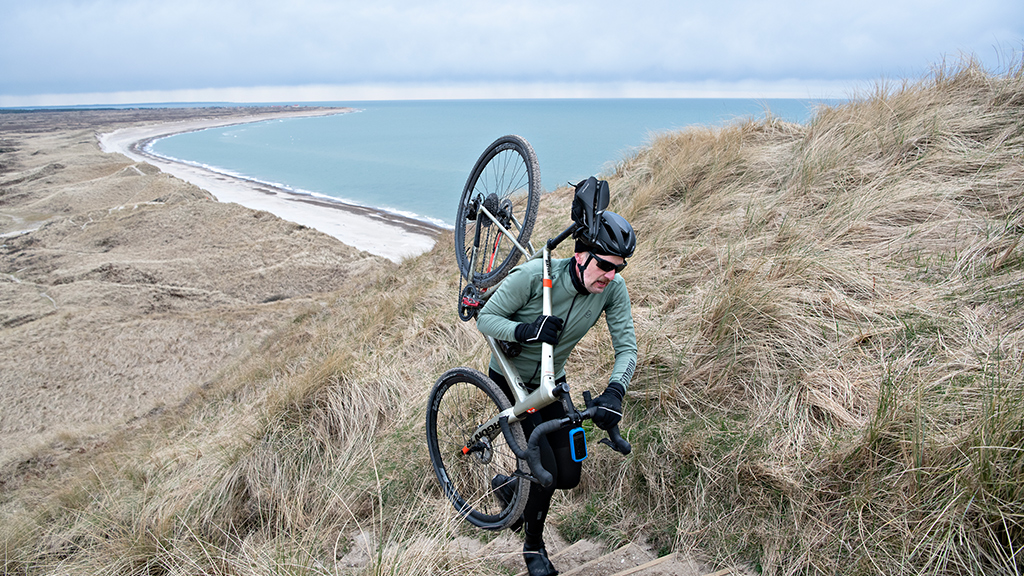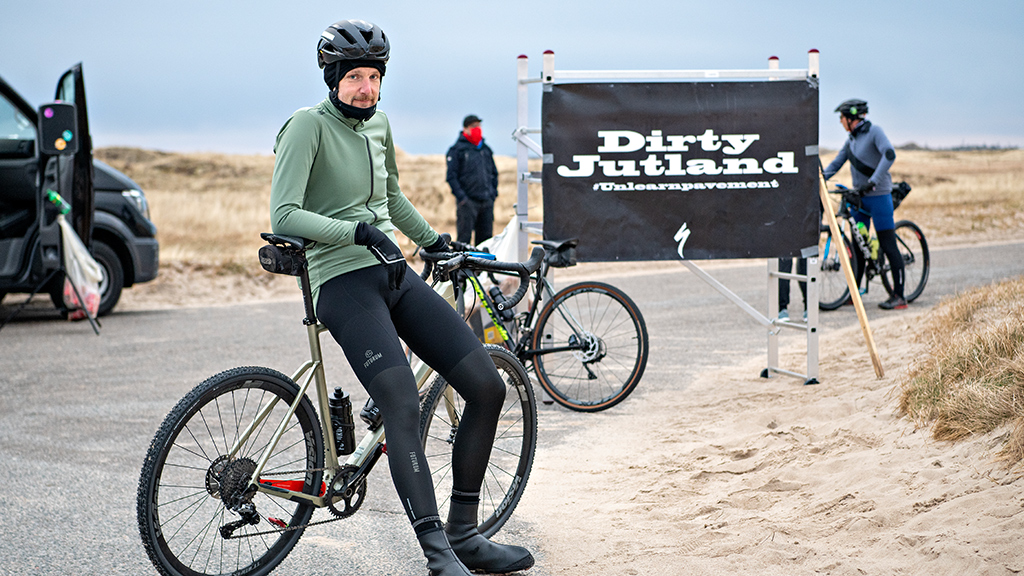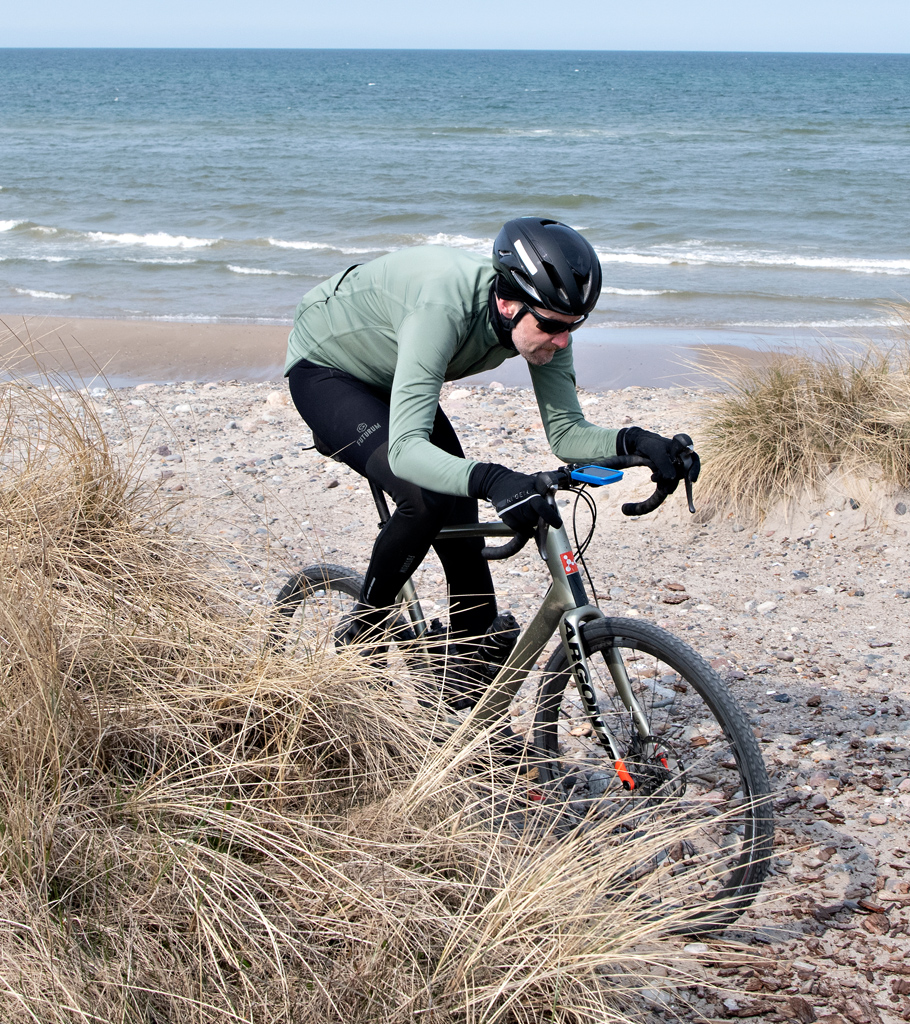 Race opens up
Until now – approximately 20 kilometers into the race – it had mainly been straight roads and paths with no real obstacles or technical passages. But that was going to change now. Corners and more technical passages now started to open up the race. Gaps needed to be closed and the constant fight for position made the intensity go up.
After some 45-50 kilometers we entered a long stretch of bumpy heath comme grassy lowland, before the first real über technical point of the route: Bulbjerg. A large hill overlooking the roaring sea, where you have to get off your bike and climb the hill with your bike on your shoulder. And it isn't just a small hill. It's a mountain in terms of Danish topography. The once grassy lowland before this elimination test was flooded. You had to either try to ride through the knee deep swamp, or get off your bike to find the driest, most passable way through.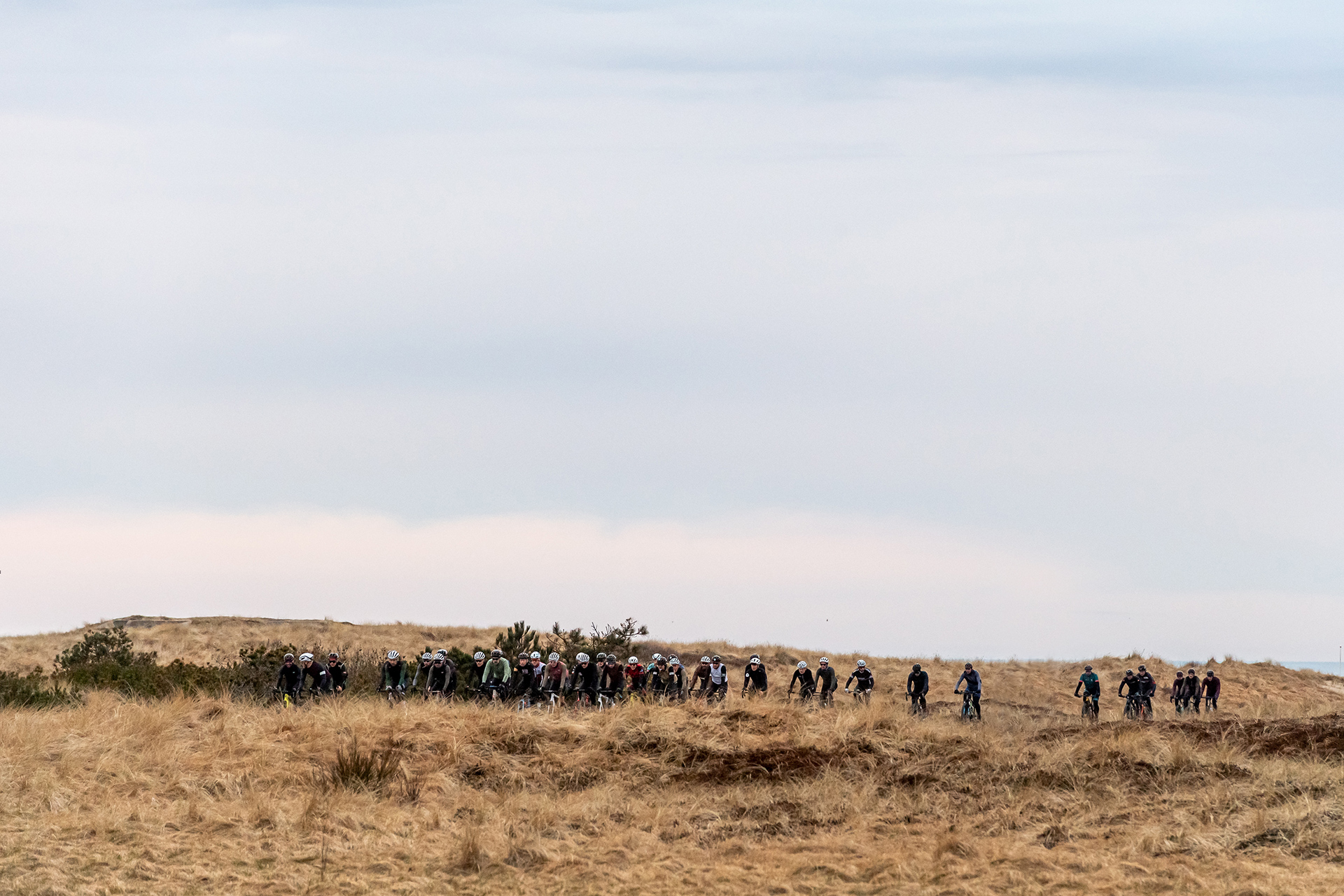 A quirky noise I had heard from my bike since the start, and put off as carbon fibre tension, revealed the true reason… my right pedal fell off the spindle. I almost crashed but somehow managed to stay on the bike. But it was impossible to pedal with only one functioning. I quickly got off the bike and grabbed the pedal on the ground and put it back on the spindle even though it wasn't fastened. The screw that holds it had disappeared into the water.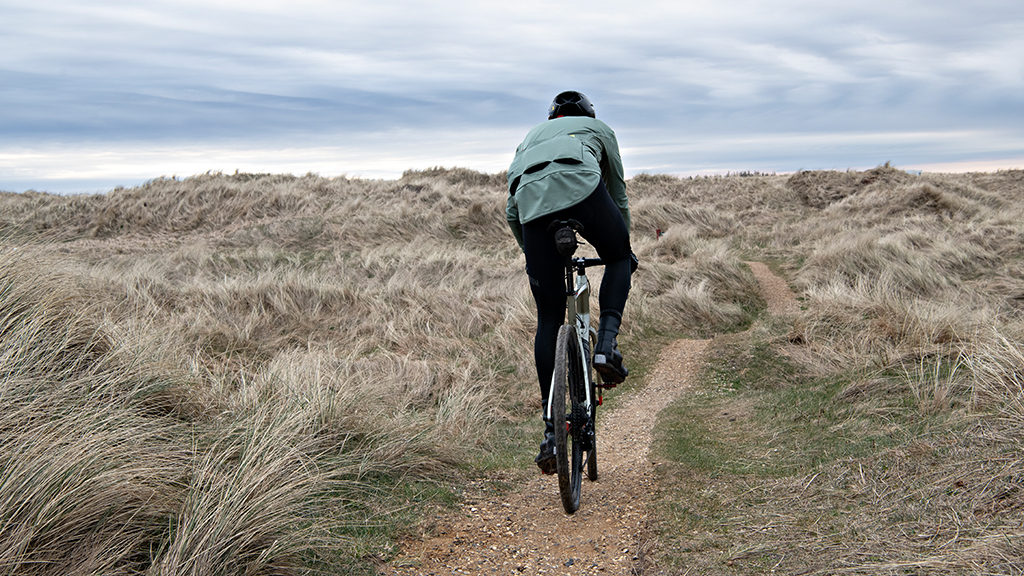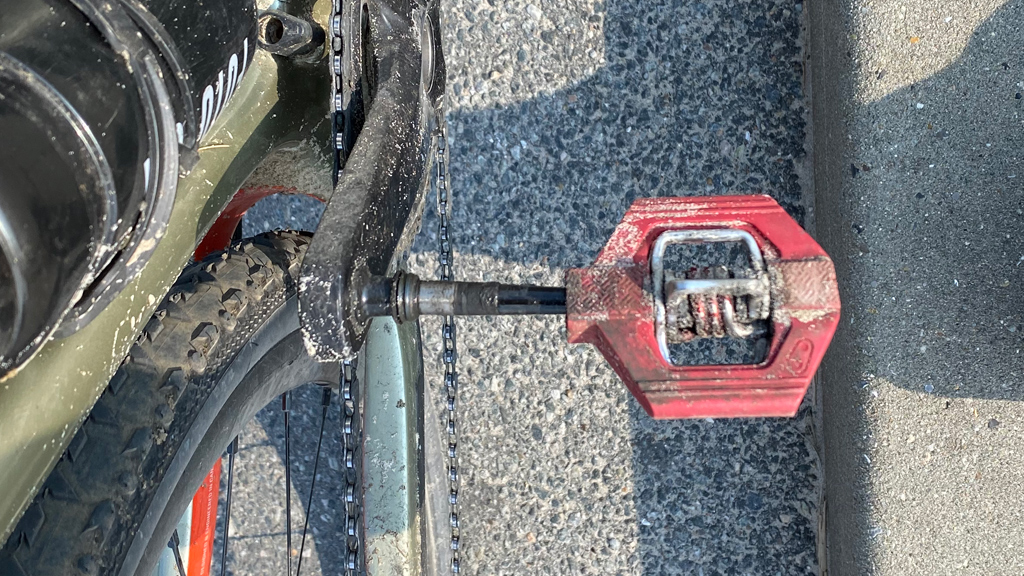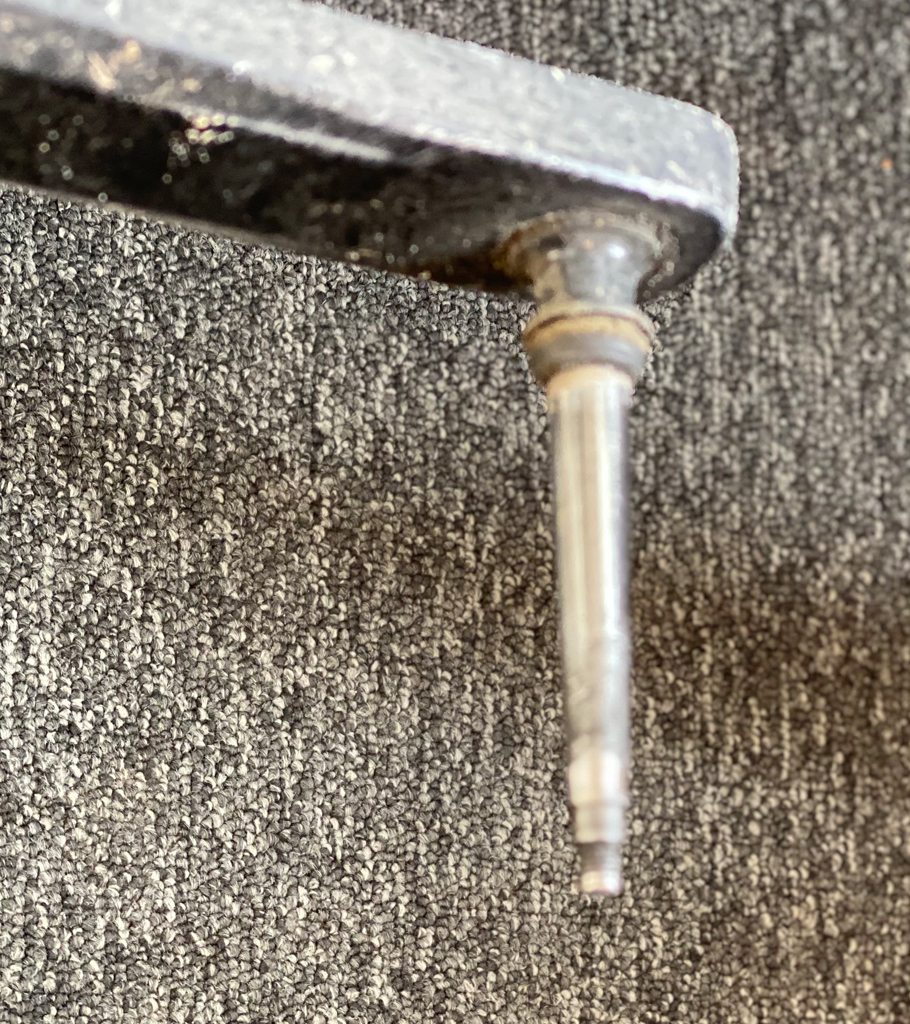 The whole episode of course made me fall out of the race. The speedy group, which I – a split of second earlier – was in, disappeared up the hill, while I was trying to fix my pedal. On a pure adrenalin kick I climbed Bulbjerg and tried for a few kilometers afterwards to pedal with a pedal loose from the spindle. Impossible.
Damn!
I was now 150-160 kilometers from Skagen. Out of nowhere without a functioning pedal. Alone. There was no way out of it. I had to continue only really pedalling with one leg. Not being able to truly push. Not being able to stand up. And with very low speed. It was going to be a much longer day in the saddle than what I had expected.
It took me a couple of minutes to reboot motivation and ambitions. Going from high pulse to long slow endurance. Having a rather tedious mechanical, which forced me to stop every 10-15 minutes to re-apply the loose pedal to the spindle, made it a test of willpower and determination instead of muscle power and race intelligence.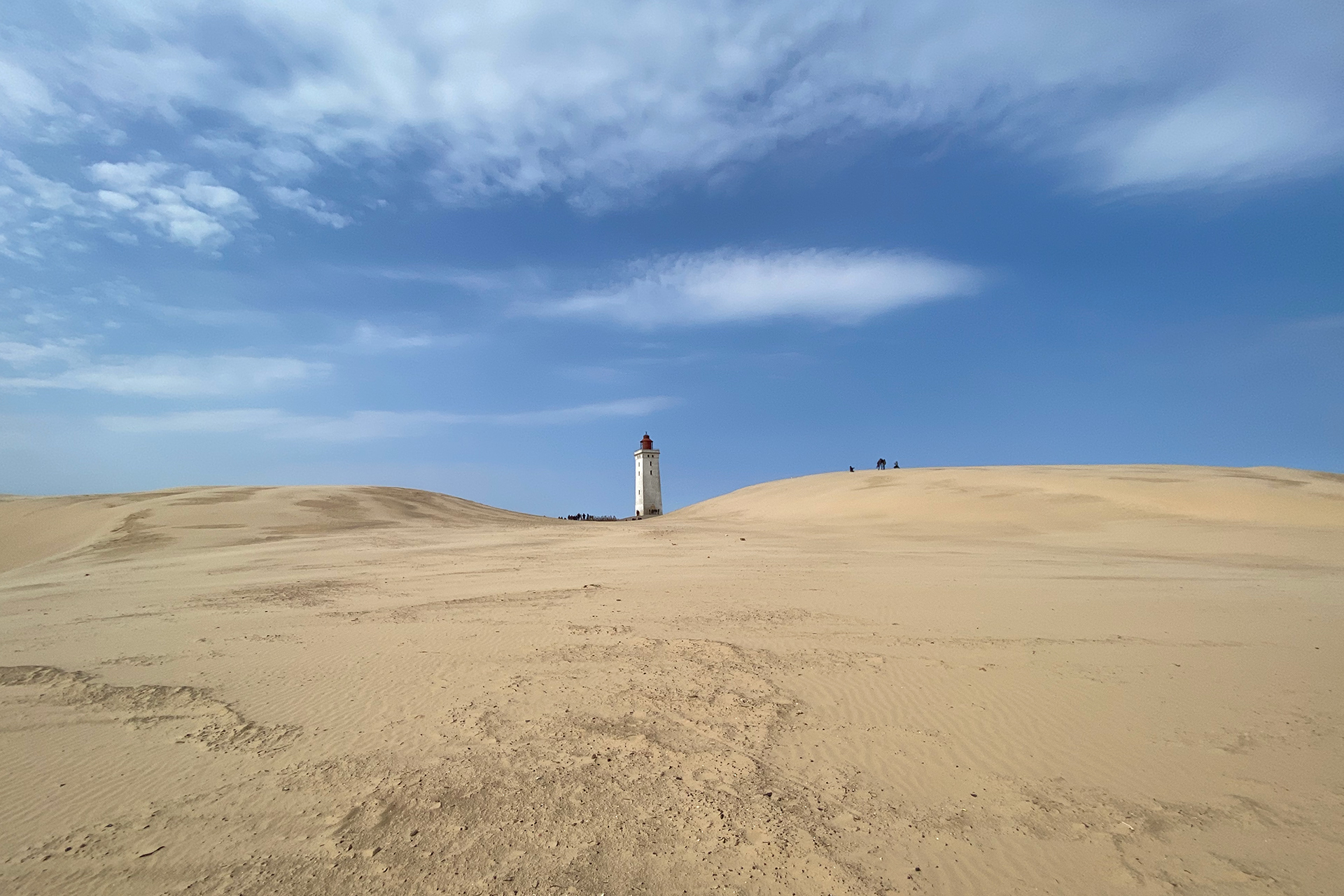 The good thing was of course that the weather was nice, and the speed was so slow, that I really didn't mind the headwind. I was furthermore in one of the most beautiful parts of Denmark with a everchanging mix of gravel roads, heath, moors, sand dunes, windswept landscapes, stunning light and the constant feel of the ocean nearby.
Photos by: Klaus Dreyer and Jens Nørgaard Larsen.