It was quite an adventure we were about to embark when we set off from Oslo on a regular Thursday in the beginning of December. We were heading towards Stockholm through the Scandinavian winter landscape on our bikes – all equipped with studded tires, fenders and generous frame clearance – ready to withstand the rough weather and road conditions.
We were five cyclists from four different nationalities: Jonas and Kjetil from Norway, Erno from Finland, Aaron from England and me from Denmark.
Jonas, a winning pro-rider from Norway, had been challenged by the Nordic Council of Ministers to gather a team of riders to do the trip to inspire others to think in more environmental friendly means of transport. Our finish line would be the Nordic Climate Action Week conference at Norrsken House in Stockholm just 54 hours later.
So off we went into the Norwegian dusk towards the Swedish capital.
Stage 1: Oslo to Arvika (147 km)
Coming out of Oslo was a mix of rather winding cycle paths, trafficked and – coming from flatland Denmark – rather hilly roads. It was cold but above freezing. The Oslo region had just come out of a number of days with snow and seriously cold days, so the roads were slippery and icy.
I was very happy about my new studded tires. It was my first time with these kind of tires, which feels like riding with your brakes on. It means lower speed and more power needed on the pedals. The other guys on the team were used to this kind of bicycle winter equipment, all coming from countries where real winter cycling is just something you do. Very inspiring.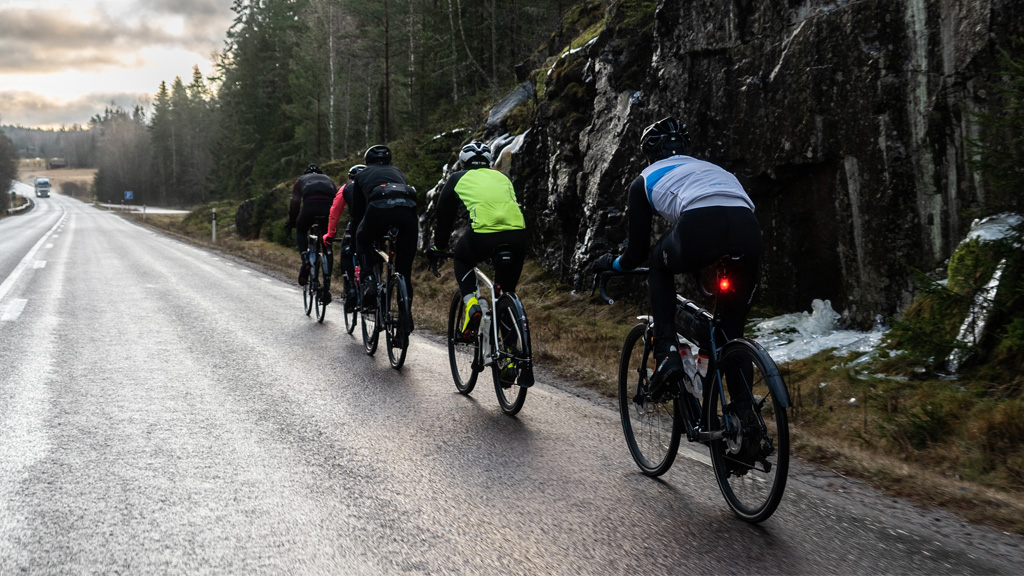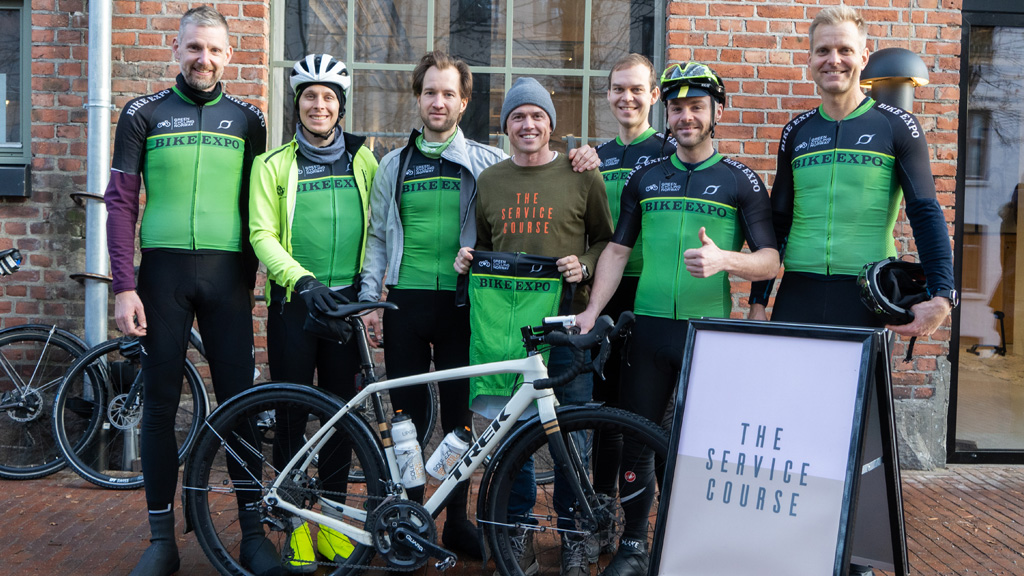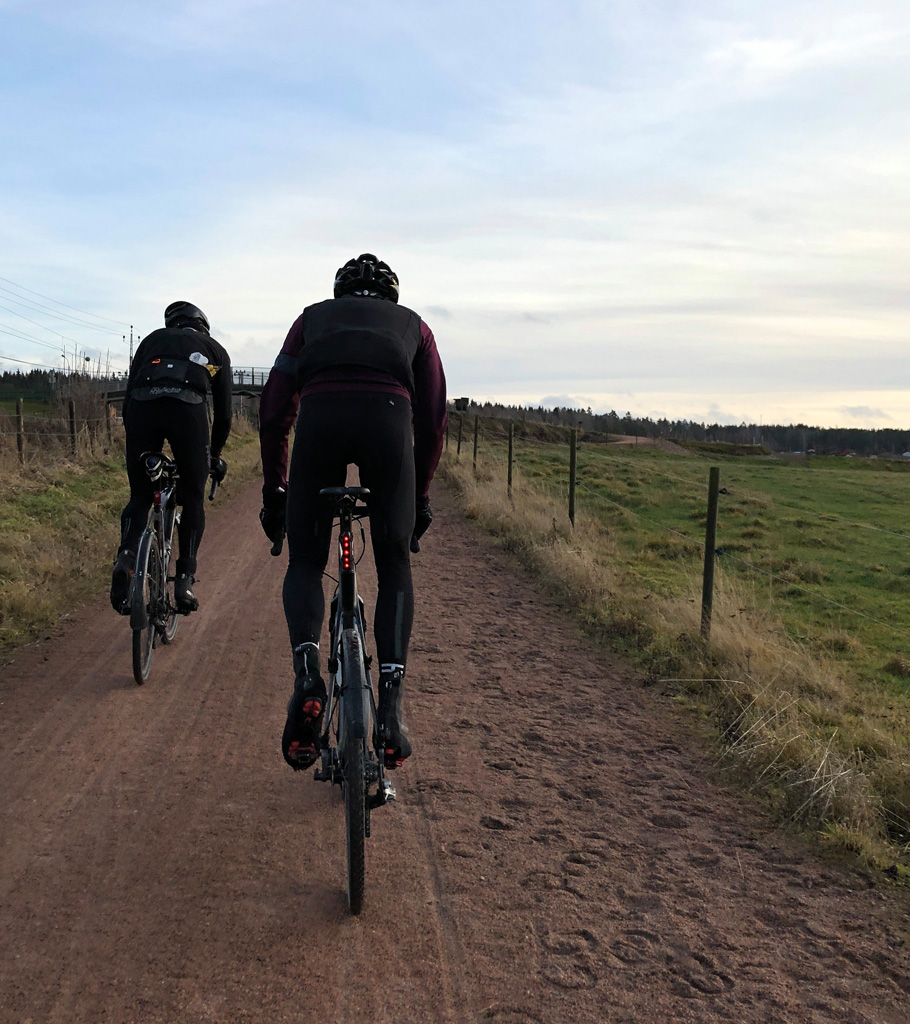 After some 65 kilometers it went pitch black and we turned off onto gravel roads… or rather… beneath the thick layer of ice there would be gravel! You could easily see who on the team were the most daring. On top of that it was a pretty long and hilly stretch of icy road we had to overcome.
Halfway through this badass piece of cycling challenge, we crossed the border into Sweden. Time for a group photo to certify the achievement.
After what seemed like an eternity, we came back onto tarmac roads – and even though still roaring dark – it was a mental relief after the strenuos ice-cycling.
We were in high spirit as we entered the small town of Arvika: The destination of our first day on the bikes.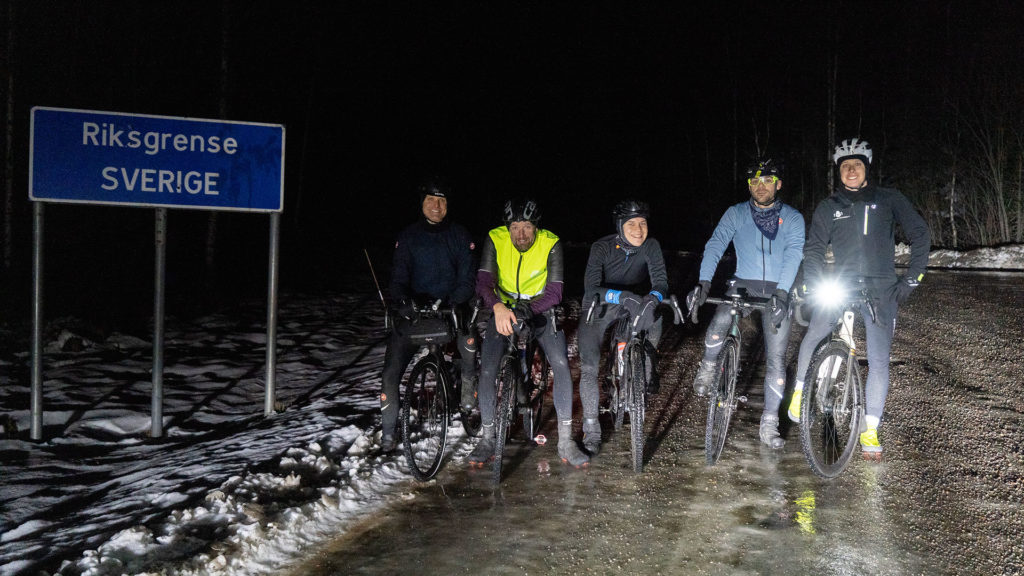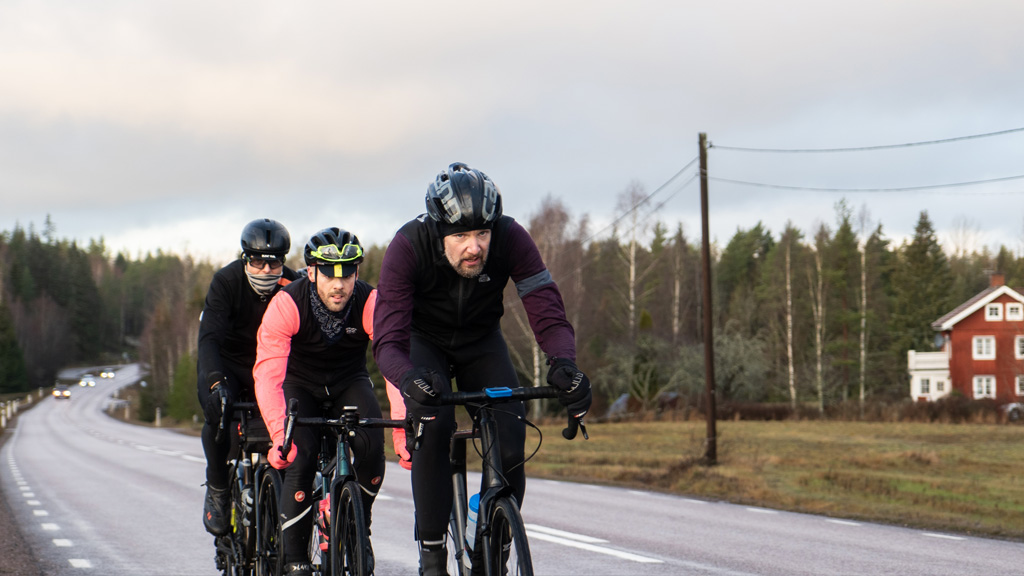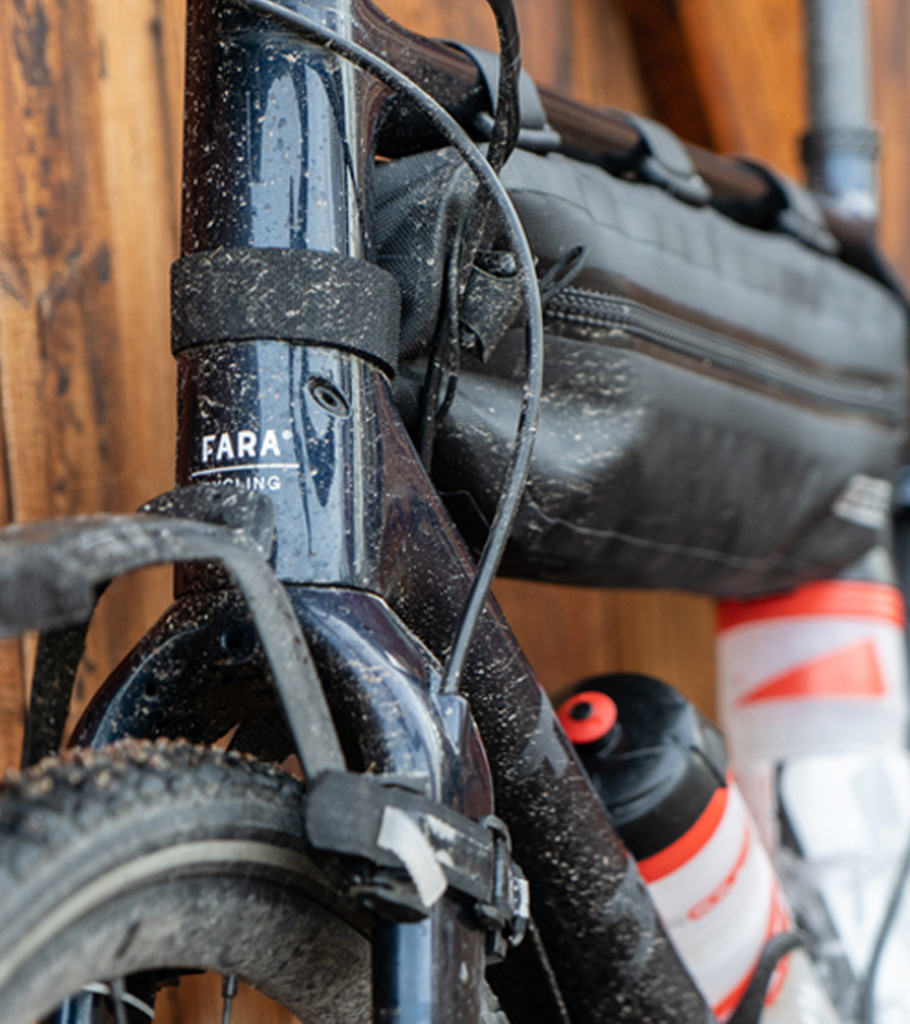 Stage 2: Arvika to Örebro (227 km)
Me and my new Finnish friend Erno Kainulainen had to get up earlier on day two, as we had to be interviewed before breakfast and takeoff for the documentary being made about the trip. The theme was differences in cycling culture. It was fun to discuss and reflect on how Danish cycling culture differs from Finnish, and put it into context of what we were experiencing, while on the road in Norway and Sweden.
This was the longest stage of the trip, so we started off with good speed to get some kilometers covered before it would turn dark and the forecasted rain and sleet would catch up on us.
We did many kilometers of main road tarmac and it is easy to see that cycling isn't a focus point when designing roads: The shoulder was extremely narrow (if it even existed) at places. It's not very comforting to ride with cars that close. So when we turned off to b-roads we had more time to talk and ride side-by-side while pushing the pedals.
Today's challenge came at the end of the stage: A long, very hilly gravel section with loose sand. In the dark. With studded tires and perhaps too high tire pressure I think I had the highest pulse on the entire trip. The speed uphill was at some points just above walking speed.
This section drained all of us, so the dinner buffet at the hotel in Örebro was a welcoming sight. Everyone needed to re-fill their energy stores, so most of us were seen at the buffet more than twice that evening.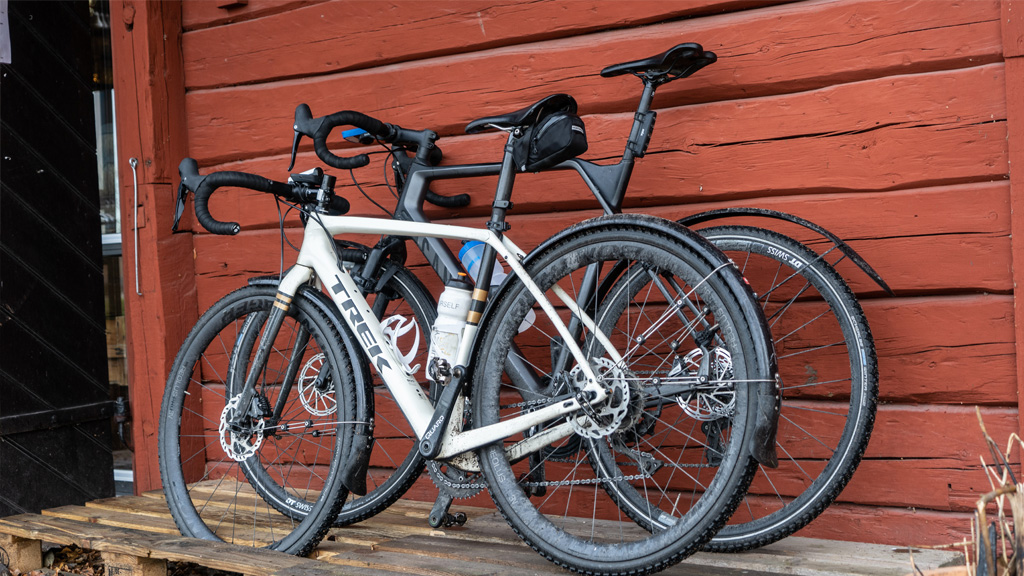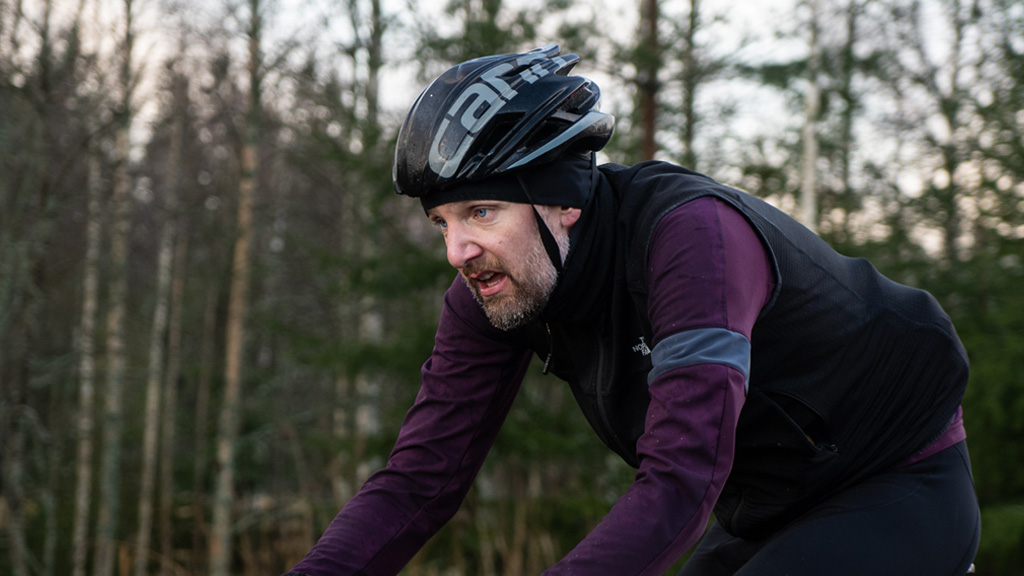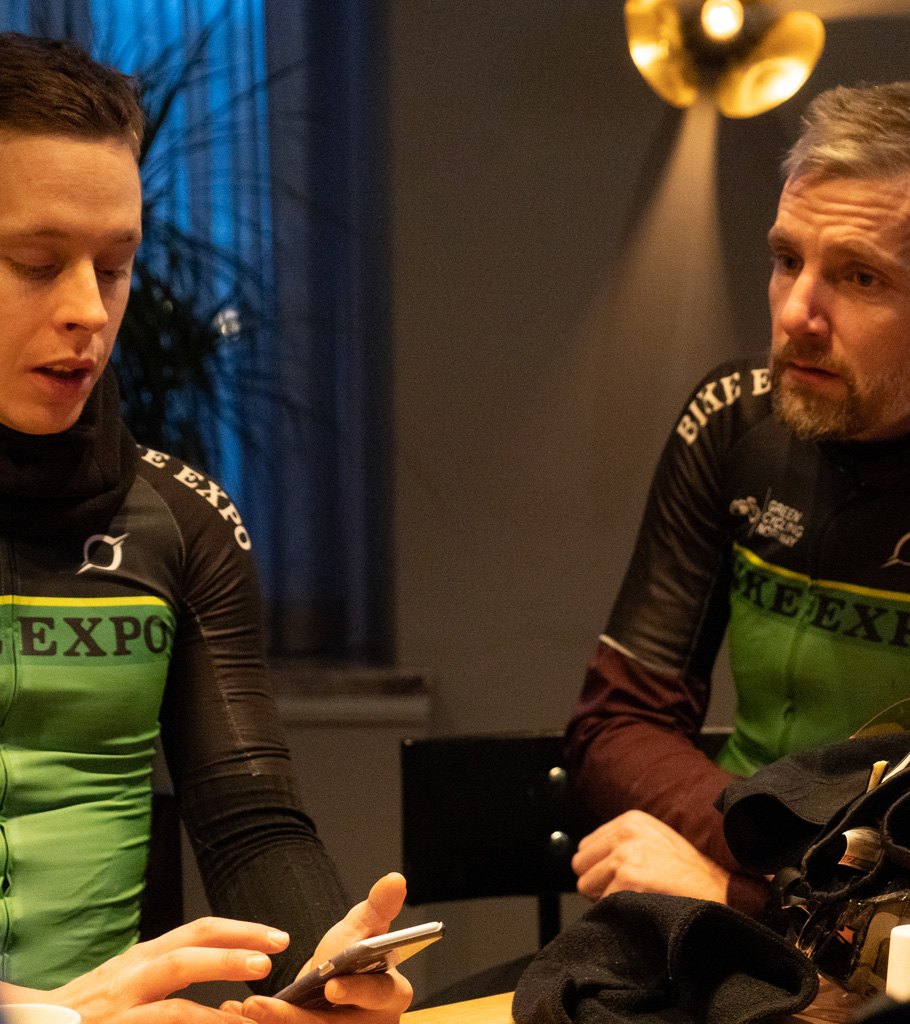 Stage 3: Örebro to Stockholm (218 km)
Final stage was a great ride through lovely, smaller roads and rain which were so light that it almost only felt as moist in the air. The temperatures were dropping to freezing though, so hands and feet were getting increasingly cold.
After 155 km we made a stop for lunch at a very cosy barn-like café where we – as a courtesy of the owner – were served the local x-mas special pepparkakkor with camembert and cloudberry jam.
Now the weather was getting real winter-like: Cold sleet, freezing and darkness. Your senses are on alert when riding close together in pitch black darkness and the sleet hammering onto your face feels like needles.
Jonas, our road captain, had arranged with Stockholm based Ryskaposten Racing Team to meet us 37 km from our destination in the city of Södertalje to guide us towards – and through – Stockholm. It was cold, really cold, and some of the guys on the Swedish lead team were shivering from cold.
Entering a capital in darkness and sleet on a Saturday night in December can be challenging – no driver expect you to be there, so again we had to manoeuvre our ways around cars, busses and trams. It was a real treat to have locals to guide us through the mayhem.
We arrived at Norrsken House as a finale to the Saturday programme of Nordic Climate Action Week. We were filmed, cheered and applauded entering the stage with our dirty bikes and clothes as a very visual proof that it can be done. Cycling in winter.
And we were smiling and happy.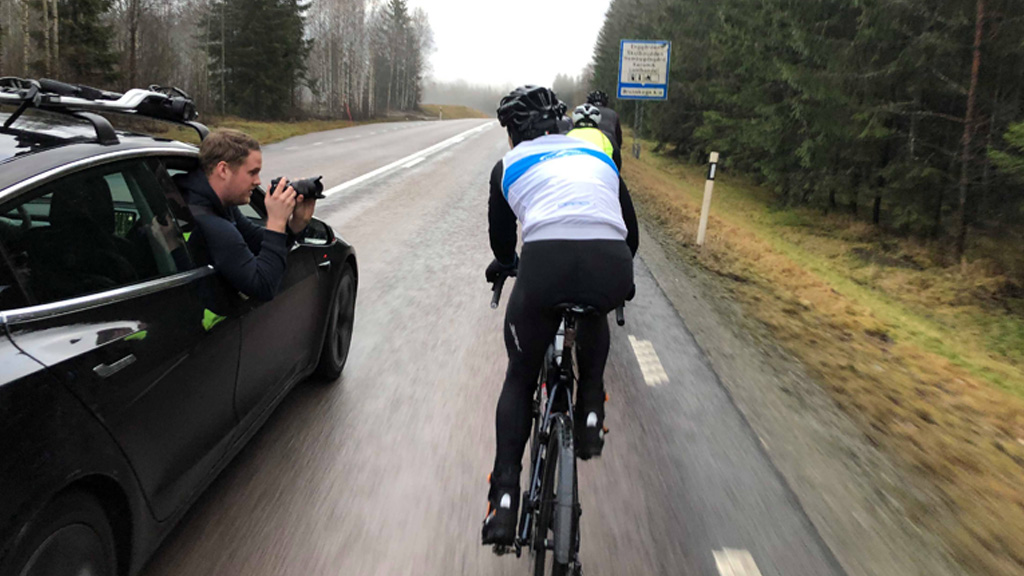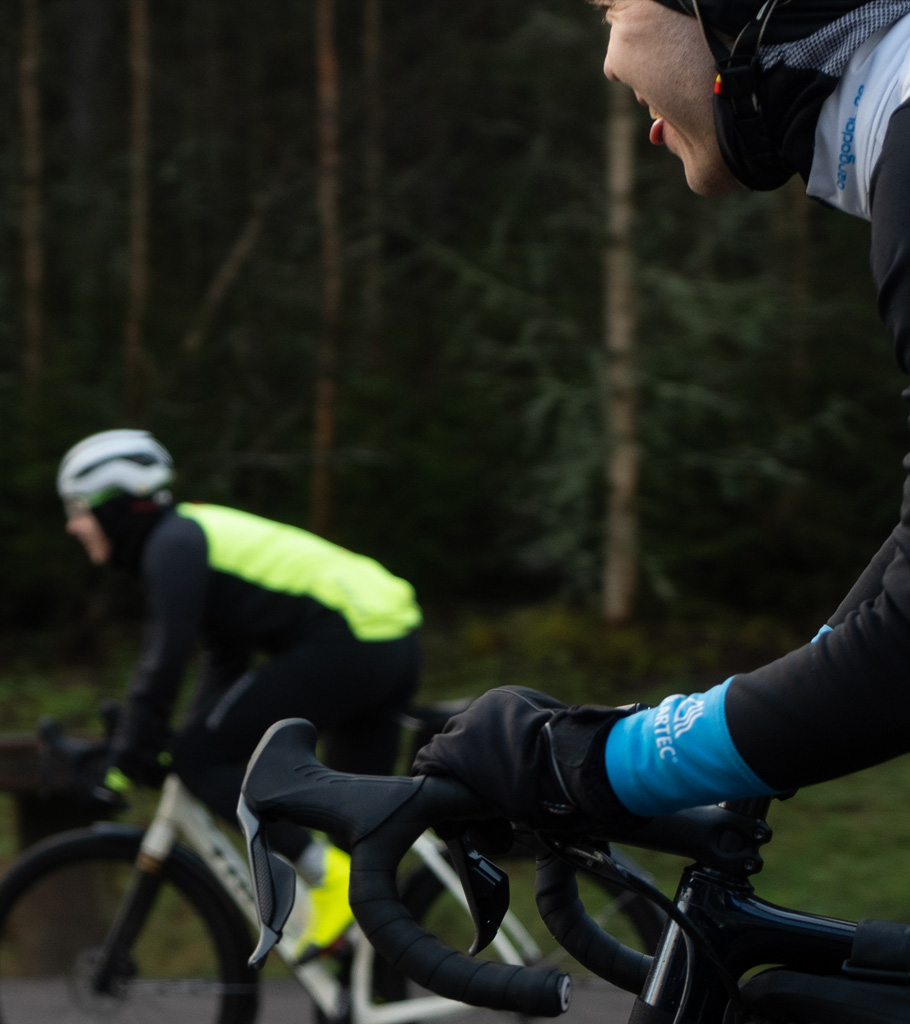 So even though it's cold and dark, our feet and hands are almost numb and snow, sleet and rain are hammering our faces, we feel alive and free. It's difficult to explain unless you've tried it, but there's just nothing like getting out there and feel, smell and breathe the landscape and weather while you transcend it by the power of your own body. On your bike.
From sunrise to sunset, we got out of our comfort zones. We tackled the elements and every time got to know ourselves a little better. It builds confidence and stamina. And great experiences. And to do it as a team builds great friendships and epic stories.
Photos by: Me, Ketil Wendelbo Aanensen and Joakim Birkeland
The final video
UPDATE: After I wrote the story about this adventure the "Tour de Climate" film premiered in January 2020. Enjoy it here.